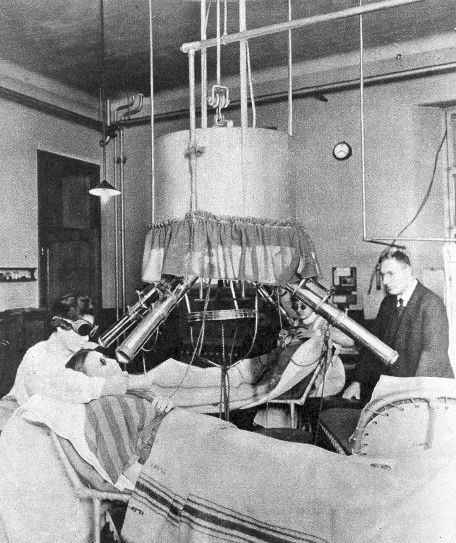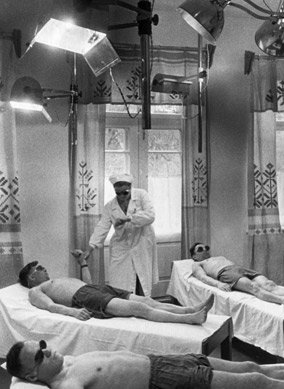 History of UV Blood Irradiation
The history of UVBI is a long and extended one that goes back to the 1800s.  Countless articles have been published on the subject in medical journals from around the world and anyone interested in searching will find a plethora of information including a substantial article from the National Institute of Health's website from which we include several excerpts:
"Ultraviolet blood irradiation (UBI) was extensively used in the 1940s and 1950s to treat many diseases including septicemia, pneumonia, tuberculosis, arthritis, asthma, and even poliomyelitis. The early studies were carried out by several physicians in the USA and published in the American Journal of Surgery. However, with the development of antibiotics, the use of UBI declined and it has now been called "the cure that time forgot"….and, "With the recent emergence of bacteria that are resistant to all known antibiotics, UBI should be more investigated as an alternative approach to infections, and as an immune-modulating therapy." and
"In 1801 Johann Wilhelm Ritter, a Polish physicist working at the University of Jena in Germany discovered a form of light beyond the violet end of the spectrum that he called "Chemical Rays" and which later became known as "Ultraviolet" light. In 1845, Bonnet first reported that sunlight could be used to treat tuberculosis arthritis (a bacterial infection of the joints).  In the second half of the 19th century, the therapeutic application of sunlight (known as heliotherapy) gradually became popular. In 1855, Rikli from Switzerland opened a thermal station in Veldes in Slovenia for the provision of heliotherapy. In 1877, Downes and Blunt discovered by chance that sunlight could kill bacteria. They noted that sugar water placed on a window-sill turned cloudy in the shade but remained clear while kept in the sun. Upon microscopic examination of the two solutions, they realized that bacteria were growing in the shaded solution but not in the one exposed to sunlight." and
"In 1904, the Danish physician Niels Finsen was awarded the Nobel Prize in Physiology or Medicine for his work on UV treatment of various skin conditions. He had a success rate of 98% in thousands of cases, mostly in the form of cutaneous tuberculosis known as lupus vulgaris. Walter H Ude reported a series of 100 cases of erysipelas (a cutaneous infection caused by Streptococcus pyogenes) in the 1920s, that were treated with high cure rates using UV skin irradiation."
A significant number of doctors successfully used UVBI during these years to treat a number of diseases including thrombophlebitis, staphylococcal septicemia, peritonitis, botulism, poliomyelitis, non-healing wounds, and asthma,  infectious arthritis, septic abortion, osteoarthritis, tuberculosis glands, chronic blepharitis, mastoiditis, uveitis, furunculosis, chronic paranasal sinusitis, acne vulgaris, and secondary anemia, Escherichia coli septicemia, post-abortion sepsis, puerperal sepsis, peritonitis, typhoid fever, biliary disease, pelvic cellulitis, and viral hepatitis!
Footnote
NIH article excerpted from:  https://www.ncbi.nlm.nih.gov/pmc/articles/PMC4783265/#:~:text=Ultraviolet%20blood%20irradiation%20(UBI)%20was,the%20American%20Journal%20of%20Surgery.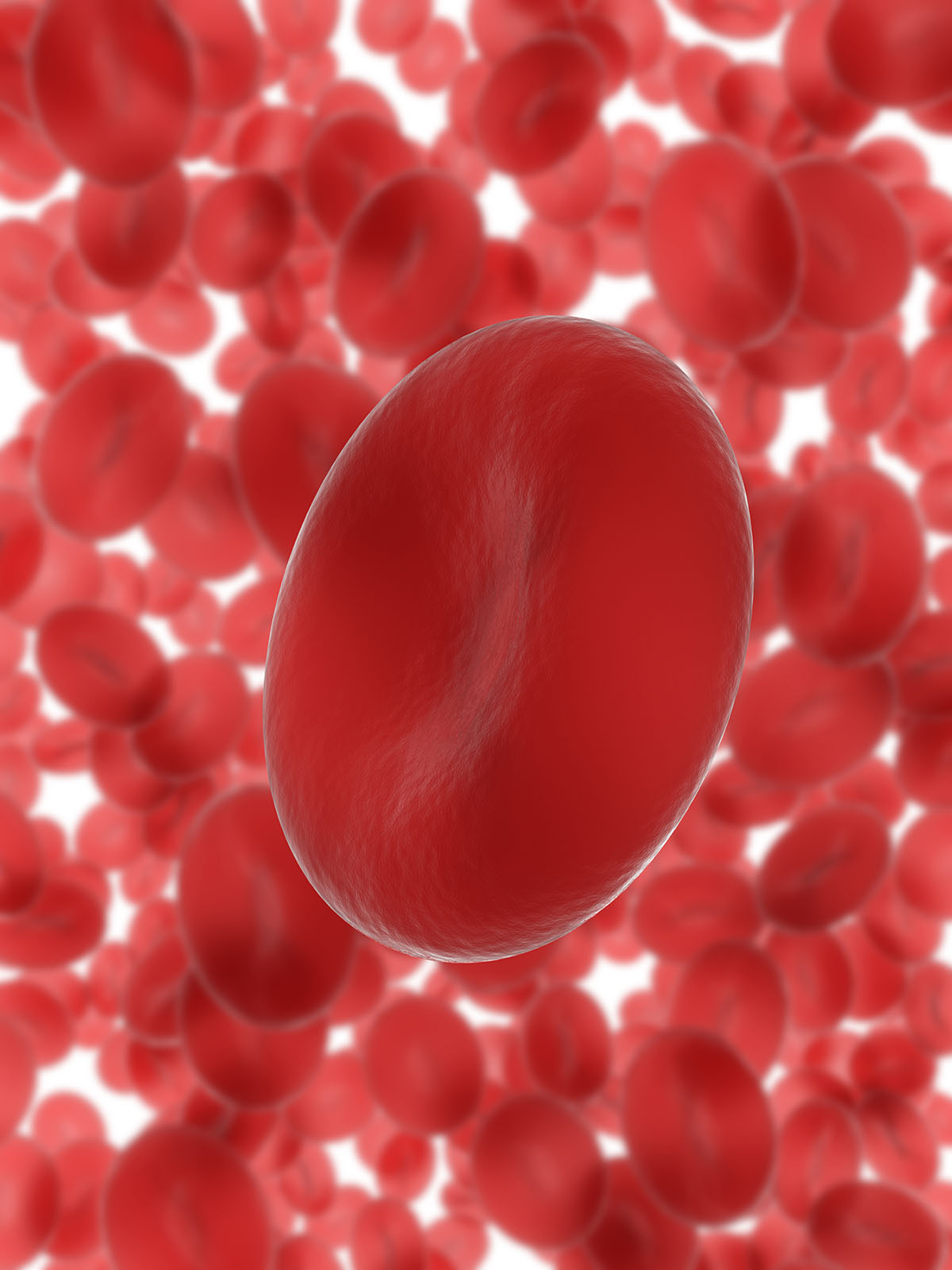 A Letter from Dr. Danilo Fernandez
Scientists and doctors are needed that are willing to conduct the clinical trials needed for this process to be accepted as a mainstream treatment.  Scientists have been hesitant to pursue these trials due to the high costs, the time required, and the professional knowledge required to conduct the trials, as well as the tedious & university/government sponsorship & approvals.  However, this is the avenue that has to be pursued in order to gain acceptability by the scientific, medical, and general communities.
Below please download and read my document regarding the history of UVBI.  I humbly include my notes on this site with thanks to the many honorable colleagues who preceded me in this endeavor and who are my mentors in this field of medicine.
As of the writing of this history, I have attempted to present the history of UVBI in a chronological and bibliographic manner to explain the studies performed and the advances throughout the last century.
All the bibliographies are real and can be confirmed by looking up the articles in medical and scientific journals, most of which are found in medical libraries.  I spent three years researching & studying all the articles that you will see presented in this document before I developed my first hemo-irradiator.
After all this research and learning about UVBI, I felt it was my duty as a doctor, scientist, and professional to give credence to the process of UVBI.  I would even go so far as to say that it would be a crime before my profession, my oath as a doctor and my conscience, not to divulge my knowledge on the ground-breaking subject of UVBI. Since 1996, I have dedicated myself to present what I have learned in writing and by performing clinical trials that demonstrate the efficacy of UVBI.
More...
In 2004 we performed Government approved Phase 1 Controlled Clinical Trials in 36 people living with HIV/AIDS utilizing UVBI.  In addition to a COVID19 trial that we are currently preparing for, we are currently approved to conduct the following trials:
A Government approved Phase 2 Controlled Clinical Trial in 200 people with HIV/AIDS,
Phase 1 Laminitis Clinical Trials in Cattle & Equine,
Phase 1 Clinical Trials in Leishmaniasis,
Phase 1 Clinical Trials in ZIKA Virus,
Phase 1 Clinical Trials in Blood Bank Sterilization process,
Phase 1 Clinical Trials in Organ Transplant Sterilization Process
And various other trials that at the time of this writing are being developed and plotted for future applications in various countries worldwide.
If you are interested in reading more about UVBI, I highly recommend a manual called "Ultraviolet Blood Irradiation: A History and Guide to Clinical Application 1933-1997" (1), as is the most coveted manual on UVBI and a must-read for anyone interested in this science.
In the future, I hope to be able to teach this knowledge and treatment of UVBI/PCI to all medical students, nurses, physician assistants, and others in the medical field.
May the Light Guide You
Dr. Danilo Fernandez
A Chronological History Of UVBI
To receive ongoing information about the Global Med and the PCI or to make an inquiry with us please use the following form.